STORAGE UNIT MANUFACTURING



Our storage unit manufacturing services provide high-quality units that are built to last. We use durable materials and state-of-the-art technology to create units that meet your specific needs and exceed your expectations.
At My Storage Great Lakes, we take pride in the fact that each storage unit is built by hand at one of our three manufacturing facilities, Lowell, MI,  Decatur, AL and Bismarck, ND! We manufacture two sizes of steel storage units to be delivered to your place of business; an 8' x 12.5', and a 10' x 16.5'. These attractive steel storage buildings are built to last with welded framing consisting of 11 & 14 gauge structural steel, 26 gauge metal siding/roof with a 40-year silicone polyester paint. For orders of 35 or more ask about color matching your existing units.
100 & 165 SQFT STORAGE UNITS
Our all-steel roll-up door features an all-weather seal at the bottom, ensuring your belongings stay dry and secure. With an interior height of 7' 5" and an exterior height of 8', there's plenty of space for your storage needs. The 3/4" premium plywood floor is supported by 14 gauge C-Purlin floor joists, 16" on center, and an 11 gauge square center beam. The 14 gauge C-channel side beams and galvanized door threshold provide additional durability. Our light stone metal siding, roof, and saddle tan trim come with a 40-year limited paint warranty and are engineered to meet code for most municipalities and counties in the U.S. The flush-mounted Chateau locking system provides added security for your peace of mind. 
Some local and state tax structures may allow the units to be held as personal property, resulting in faster depreciation and lower real-property tax. This translates into more net income and cost savings for the business owner.
The ability to build the facility as the business grows and as the market dictates offers flexibility and adaptability. The business owner can add units as needed and expand the facility in a way that best suits their business needs.
Purchasing storage units that arrive pre-constructed and ready for immediate use saves time and effort. The business owner can start using the units right away, without having to wait for them to be built or assembled.
The unique design of the units means that deconstruction is not required if relocation is necessary. This saves time and money and makes relocation a more feasible option for businesses.
Compliance with regulations
The units are engineered to meet or exceed the requirements for most municipalities and counties in the U.S. This ensures compliance with regulations and reduces the risk of penalties or fines.
My Storage Manufacturing can typically build your facility quicker than building it out the traditional way, offering time savings and a faster return on investment.
Take the first step towards owning a durable steel storage unit by requesting a quick and easy quote from our team. Simply fill out the form on our website or give us a call to get started.
At this stage, it's time to explore financing options to reach your goals of owning and operating a self storage facility. While we do not offer financing, we can provide guidance on the available options and connect you with reliable financing sources. There are many great options to secure capital for your self storage facility, including loans, grants, crowdfunding, and partnerships.
Once you've secured financing and approved your quote, we'll work with you to schedule a convenient delivery time. We'll ensure your steel storage unit is delivered on time and ready for immediate use.
EASILY PLACE RIGHT INTO YOUR LOCATION
Streamline Your Storage Solutions with our Quality Steel Units - Simplifying Self-Storage Ownership and Operations!
Our quality steel units are designed to simplify self-storage ownership and operations. With durable construction and customizable features, our storage solutions help you maximize your space and enhance your customers' experience. Streamline your storage solutions today with our reliable and innovative units.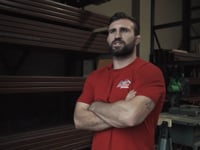 FREQUENTLY ASKED QUESTIONS